Kevin Dreyer, of Quechee, Vt., gets the inside view of the dunk tank at the Robert E. Ammel Jr. Memorial Youth Day at the Maxfield Sport Complex, in White River Junction, Vt., on Sunday, July 22, 2018. The day honored umpire Bob Ammel, who died in a car crash in 2016, and awarded scholarships and offered various activities to give back to youth.
Kristie Laatsch reacts as Dana Blaszkowski, 17, rides her 5-year-old horse Ike up to the Burger King drive-thru window on Thursday afternoon. Blaszkowski decided to take a more rural method of transportation from her home in Rozet to class at Thunder Basin High School. After an unsuccessful attempt to order from the McDonald's drive-thru earlier, Blaszkowski found success at Burger King and got Ike water and some applesauce for being good. While Ike decided the applesauce wasn't for him, he did enjoy some of the grass on the side of the road.
Pam Kneisel reacts to an account, told by Congressman Peter Welch, D-Vt., of what children have gone through in the wake of President Donald Trump's immigration initiative on Wednesday, June 20, 2018 at the Thetford Hill Congressional Church, in Thetford, Vt.
Margaret Turner, 12, tends to her family's sheep on a day where smoke from wildfires made outdoor work in Eugene difficult. Margaret's sister, Eleanor, 8, said the smoke has left her with headaches, an upset stomach, clogged nose and burning eyes. While the family purchased respirators to ensure they breathe in as little smoke as possible, they have been left wondering what affect the smoke is having on their animals. "I feel bad for animals, they're sort of stiff, not doing a lot," Eleanor said.
Willow Kasper walks along the trail at Golden Gardens Park in Eugene's Bethel Neighborhood during the Willamette Resource and Educational Network's Family Exploration Day. WREN provided numerous families with nets, binoculars, and containers for studying insects and fish, before letting them loose on the wetlands with the goal of helping kids learn about the environment and land stewardship.
Dade Mitchell receives his last of six vaccinations from head of the North Eugene Medical Clinic Tricia Schroffner on exclusion day. Exclusion day marks the day a child's records must show they have been vaccinated or risk being sent home from school and be unable to attend school until they receive the vaccinations. While shots are required by law in Oregon for all children in attendance of public or private schools, the state's vaccination rates remain among the lowest in the nation.
Breanna Evans (left) consoles Jean Schaible after Schaible's mother's house went up in flames on her mothers birthday. Both Schaible and her mother Shirley Henson were able to safely make it out of the house with the help of neighbor Nolan Nease, 19, who ran into the house and helped carry Shirley and her wheelchair to safety. The damage to the house made it inhabitable, meaning it would have to be torn down.
Pianist Alexander Schwarzkopf plays "Night-Spell 1- Saggitarius," by the composer George Crumb. The piece involves plucking on the strings of his piano, whistling and drumming on the piano.
Flames roar up over the face of head chef and owner of Café Soriah, Ibrahim Hamide, as he prepares steak diane for his customers on the back patio of Café Soriah. Hamide was born in Bethlehem in 1950 and came to Eugene to attend the University of Oregon in 1969. He quickly fell in love with the Eugene community after noticing people smiled at him, that smiling captured his heart. After 9/11, Hamide became "the defacto spokesperson for Palestinians" in the Eugene community.
Branch Manager at Pacific Steel Matt Taylor looks through an electric resistant welded tubing for a portrait at Pacific Steel on Wednesday, May 15, 2019.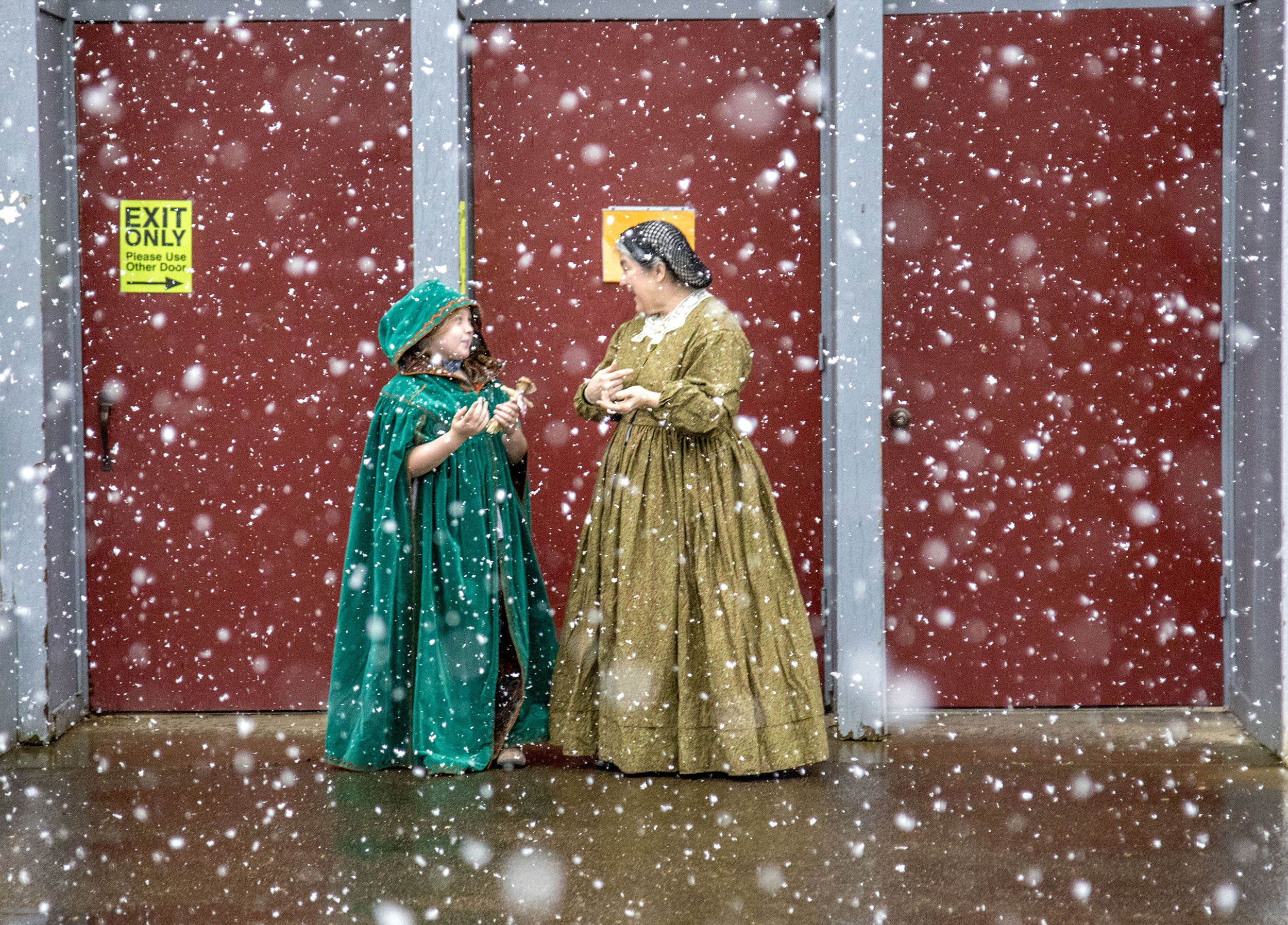 Hailey McKendrick, 7, and Lisa Ponder step outside the Frontier Heritage Fair to watch a rare snowfall in Eugene, Ore., on Sunday, Feb. 19, 2018. The Heritage Fair brought old fashioned clothing, art and tools to 21st century Eugene. Ponder attended the fair as part of the Pioneer Quilters, and with two other women demonstrated the art of quilting.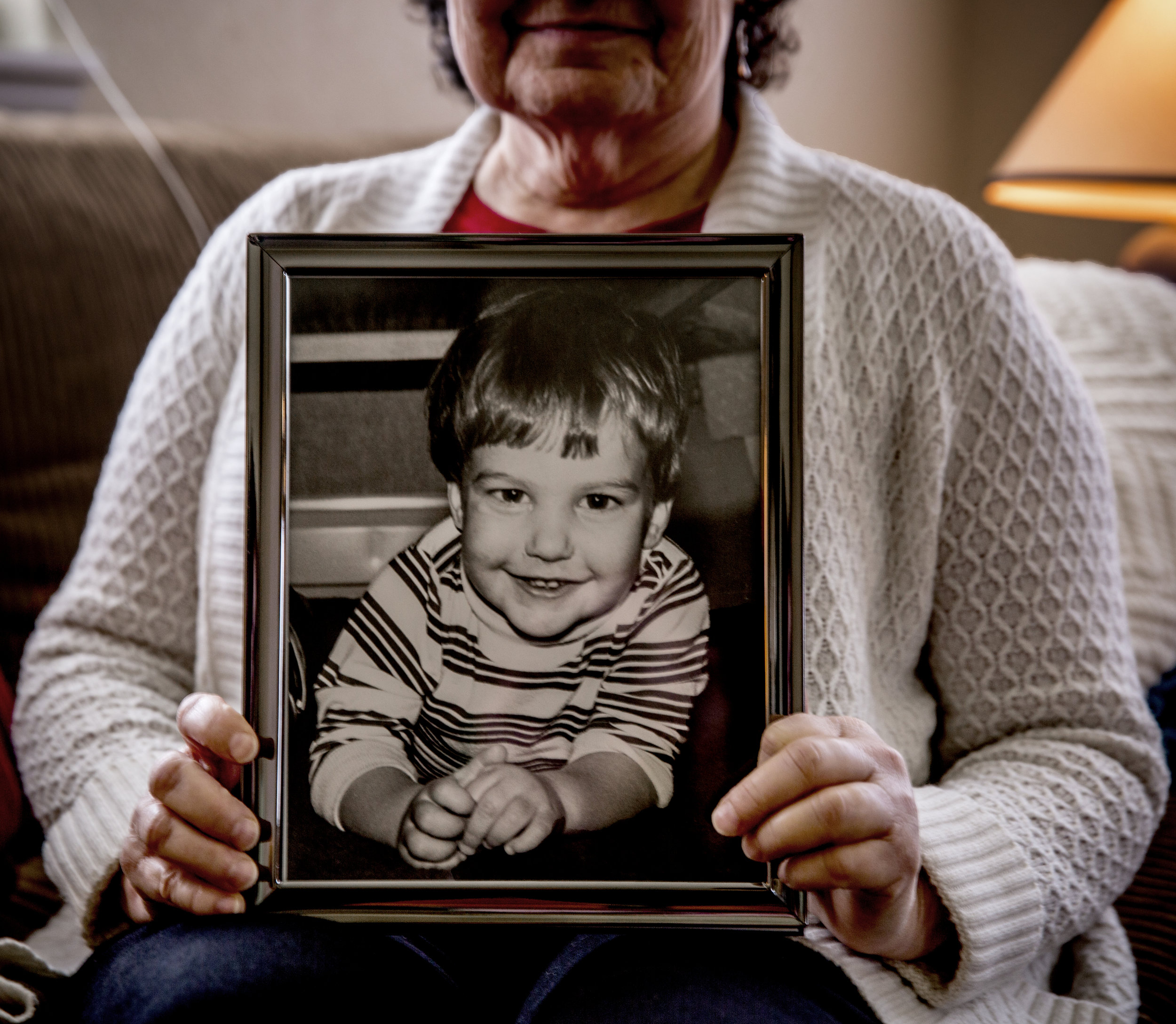 Nike Bowerman TC's Evan Jager kisses his girlfriend after winning the 3,000 meter steeplechase at the Olympic Trials with a time of 8:22.48. By winning Jager qualified for the Olympic Games in Rio De Janeiro.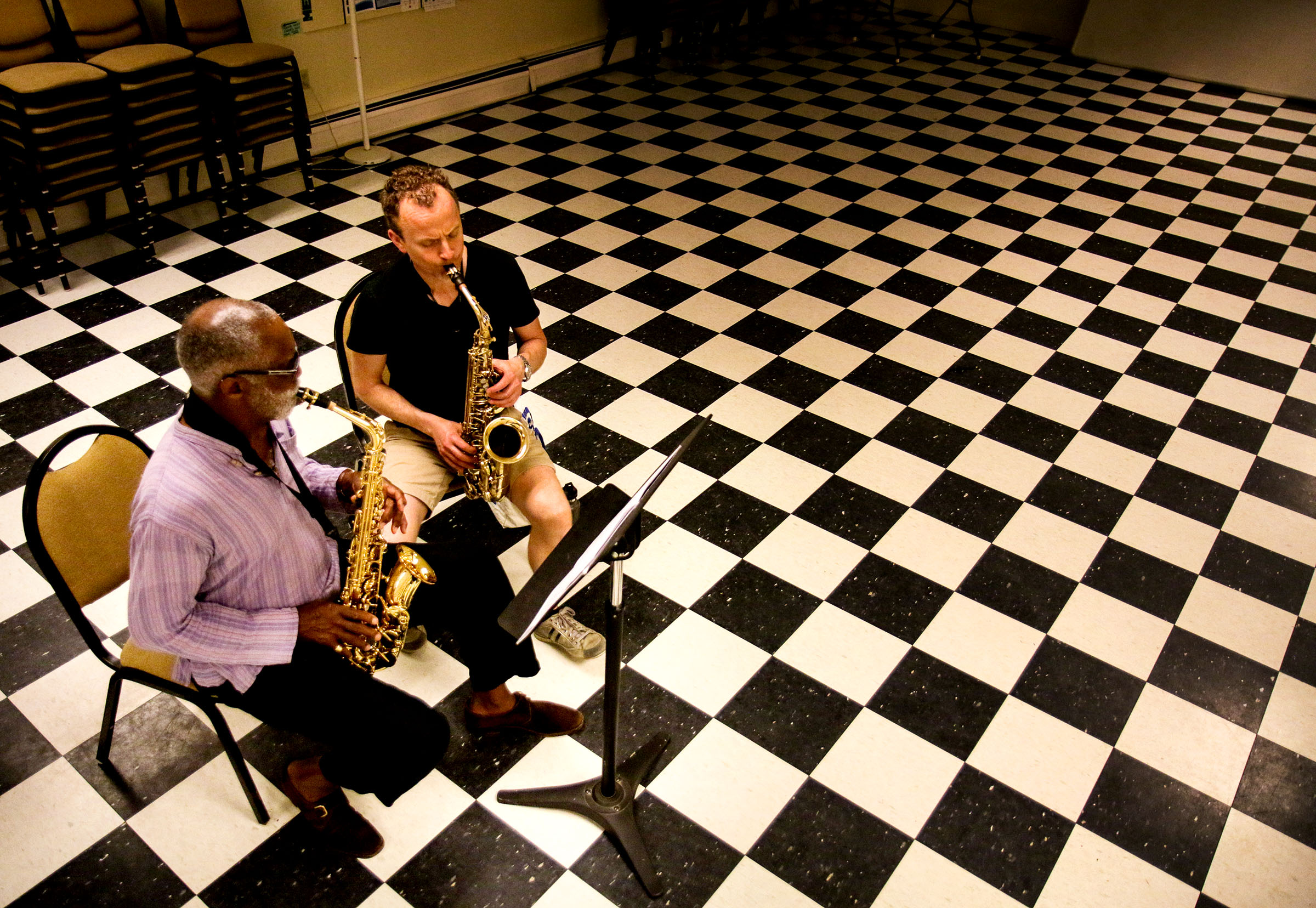 Mendon, Vt., resident Al Wakefield, left, takes a lesson from Dartmouth classical saxophone lecturer Michael Zsoldos, of Woodstock, Vt., at The North Chapel in Woodstock on Wednesday, July 11, 2018. Wakefield was one of 70 students Interplay Jazz brought together for a summer program, and he is now applying the basics he learned there. After a life as a "corporate guy," music functions as a way for Wakefield to get his emotions out. "At this stage in my life, it brings me great joy," Wakefield said.
Gina Tate holds Quinn Lang, 3, as they listen to songs during the Gillette ceremony of the National Day of Prayer at Legacy Park on Thursday while Tate's daughter Addison played nearby. Tate's prayers were directed towards children, specifically teenagers she said.
Past and present meet at the Gillette Frontier Auto Museum as Pat Fuller checks his smartphone during the fourth annual Show & Shine Car Show on Saturday, May 25, 2019.
Brian McGregor, the passenger representative of Green Mountain Railroad, helps Nicole Piasecki, 3, of Hanover, N.H., off the train at the end of her 40 minute train ride at Glory Days of the Railroad in White River Junction, Vt., on Saturday, Sept. 8, 2018.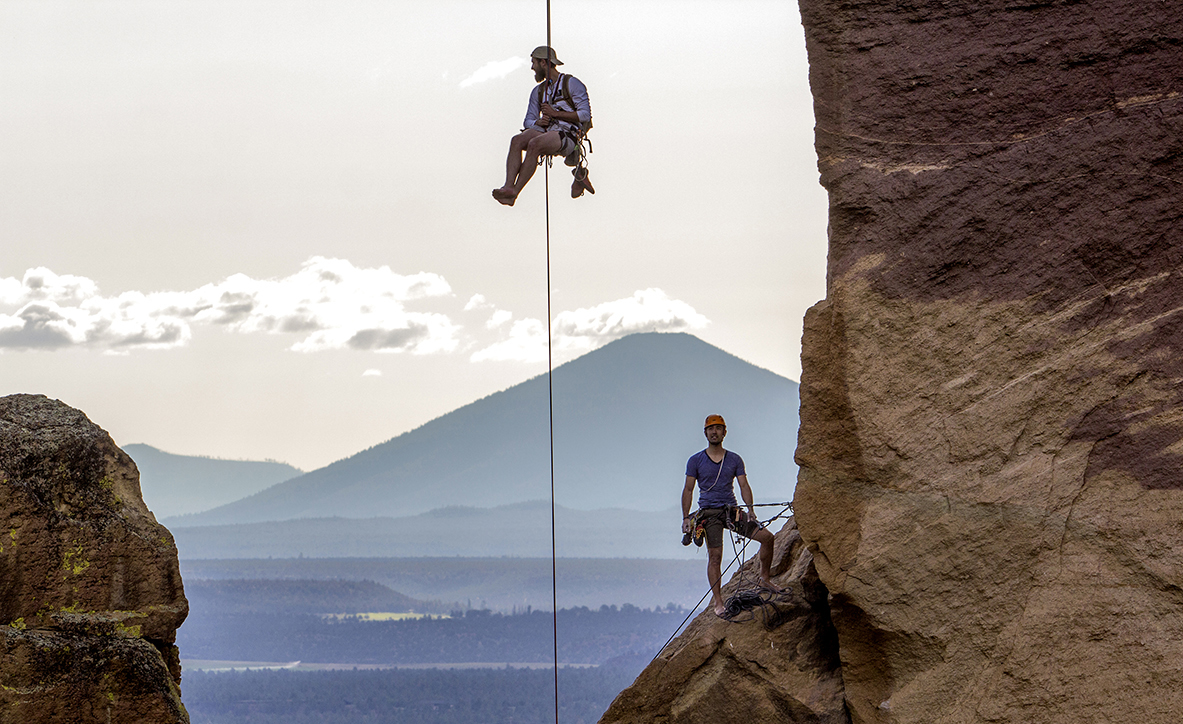 A rock climber descends down from the rock known as "Monkey Face" as another climbers looks on at Smith Rock State Park. Monkey Face is a 350 foot pillar, that resembles a monkey from the correct angle. The pillar contains several of the most difficult climbs in the world, including "just do it," and the "east face" crack. The "just do it" route is also the first 5.14c rated climb in the United States, an elite level grade in rock climbing.
Special Olympic athlete on the Upper Valley Hawks team Rose Kerrigan, of White River Junction, Vt., swims through the water at CCBA's Witherell Recreation Center in Lebanon, N.H., on Friday, Aug. 31, 2018. When it comes to important moments, Kerrigan thinks back to the bronze medal she won in the 100 meters in swimming. The medal was important not because it was her first, but because her family was there to watch.
Whether it's going head-to-head in the Area Games, rehearsing for an upcoming talent show or running alongside each other in the annual Torch Run, Special Olympics and the activities surrounding them is all about family. As they awaited the next scene on Monday, Maddi Buchmann, 3, played and tickled Jessica Attaway. Maddi, who was there with her aunt Christina James, attend and participate in events like the Kids in Motion Talent Show to keep the memory of James' daughter alive.